Depeche Mode Announce Additional World Tour Dates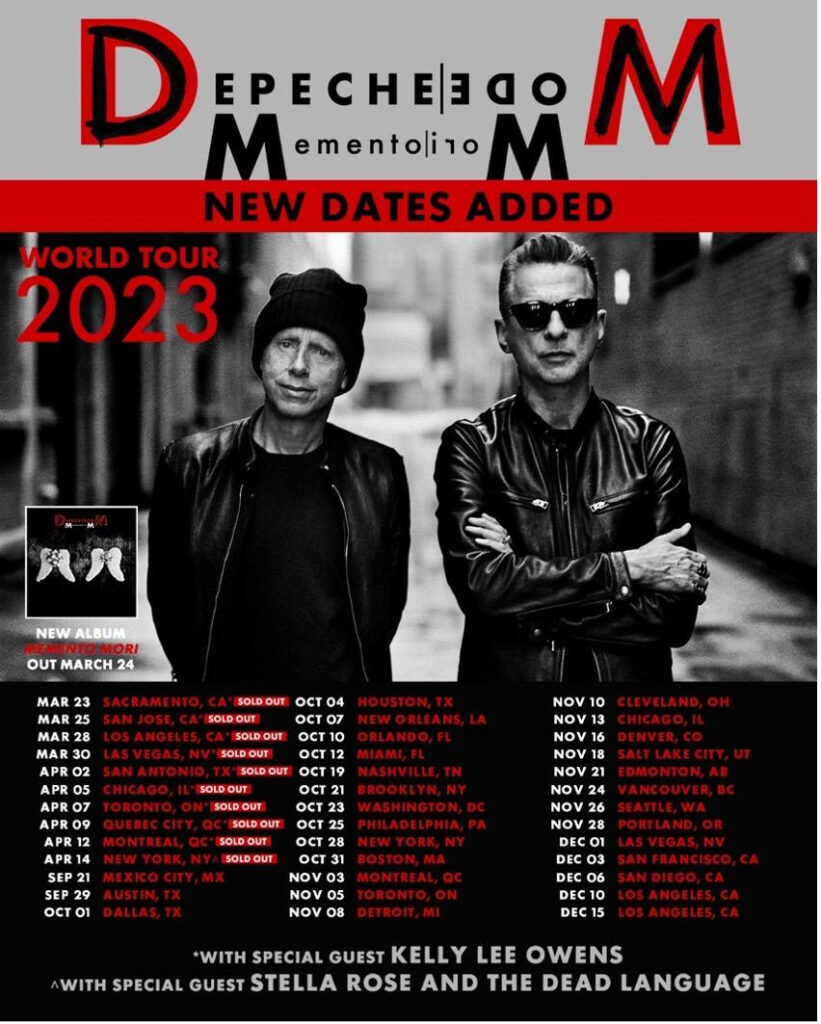 Depeche Mode have added another leg to their upcoming world tour. With all current North American dates already sold out, the group will return next fall for 29 additional shows. The run will see the Depeche Mode perform in Mexico City, Dallas, Orlando, Miami, Philadelphia, Boston, New York, Los Angeles, and more.
Pre-sales will kick off with a Fan Pre-sale on Tuesday, February 21, with the general public on sale beginning Friday, February 24 at 10am local time. For further information on the tour routing and ticket on-sale dates, please visit depechemode.com. The full listing of dates, cities and venues is also below. On the Memento Mori Tour, the band will once again be partnering with luxury watchmaker Hublot to support charity endeavors tied to the tour.
Depeche Mode recently released "Ghosts Again," the first single from their forthcoming album Memento Mori. The record arrives on March 24 via Columbia. The band produced the music video with long-time visual collaborator Anton Corbijn.
"To me, 'Ghosts Again' just captures this perfect balance of melancholy and joy," frontman Dave Gahan says of the song, with bandmate and Martin Gore adding: "It's not often that we record a song that I just don't get sick of listening to – I'm excited to be able to share it."
The album will be available on exclusive translucent red vinyl, standard vinyl, CD, exclusive deluxe CD, translucent red cassette, and digital download. Fans can pre-order physical copies now HERE. Pre-save on streaming services HERE.
The new album is their first effort since the death of long-time keyboardist Andy Fletcher.
"We started work on this project early in the pandemic, and its themes were directly inspired by that time," Gore previously stated. "After Fletch's passing, we decided to continue as we're sure this is what he would have wanted, and that has really given the project an extra level of meaning."
Dave Gahan added at the time, "Fletch would have loved this album. We're really looking forward to sharing it with you soon, and we can't wait to present it to you live at the shows next year.

Five of Sony's 'Spider-Man' movies are coming to Disney+
Disney+ has announced that six Spider-Man films and the 2018 film "Venom" will be launching on the streaming service in the United States. Tobey Maguire's trilogy of "Spider-Man," "Spider-Man 2" and "Spider-Man 3" and Andrew Garfield's "The Amazing Spider-Man" will arrive on the platform tomorrow, while Tom Holland's "Spider-Man: Homecoming" and Tom Hardy's "Venom" will arrive on May 12.
The launches will be a welcome addition to the platform for Marvel fans, especially since the vast majority of Marvel movies are already on the streaming service.
It's worth noting that the list is missing a few Spider-Man movies, as "The Amazing Spider-Man 2," "Spider-Man: Far From Home" and "Spider-Man: No Way Home" aren't included. These films will likely hit the streaming service sometime in the future, considering that Disney+ said in a press release that additional titles from Sony Pictures' film and television library are expected to premiere on the platform later this year.
Today's news isn't surprising, given that Sony and Disney announced a deal back in 2021 to bring Spider-Man and other films to Disney+.
Teen goes from high school football standout to wanted fugitive for liquor store murder
The Palm Beach Sheriff's Office announced on Tuesday that a former Palm Beach Central High School football standout is now a 19-year-old wanted fugitive.
Detectives accused Brandon Mackenzie Frazier of fatally shooting a man at about 6:40 p.m., on March 21, at 777 Liquors, at 3613 S. Military Trail, in the Lake Worth Corridor area.
Frazier doesn't have a criminal record. Palm Beach County court records show deputies arrested him late last June, but prosecutors later decided to drop the case.
Deputies reported finding the victim dead inside the 777 Liquors store. And about three weeks after the shooting, a judge issued a warrant for Frazier's arrest on charges of first-degree murder with a firearm and shooting within an occupied dwelling.
Frazier, who is over 6 feet tall, played football as both a cornerback and free safety in high school, according to his Hudl profile. When he was a junior, New Era Prep reported he was the "No. 5 bubble player in Palm Beach County," which meant he was "on the cusp of having a true breakout moment at some point."
Frazier's tweets from 2019 to 2021 show him working hard on the football field, wearing his 22 Broncos shirt, getting invitations to football camps, and visiting the University of Miami. The teen was in Palm Beach Central's class of 2021.
Nearly two years after he left the school, Palm Beach Sheriff's Office deputies distributed a flyer with his picture offering a $3,000 reward for information leading to his arrest for the murder.
Dafoe's 'Inside' asks how art helps us escape isolation
LOS ANGELES – Willem Dafoe has said that, for him, the process of making a movie always eclipses the finished product.
But after more than 130 film credits, the 67-year-old actor has finally found a project whose final form is on par with the experience of creating it.
"When I watch this movie, I say, 'Okay, I feel like I'm there again,'" he said. "Although there's lots of stuff that we had invented that gets cut out, it feels like the making of it."
That assertion is impressive, given how much "Inside," Vasilis Katsoupis' fiction directorial debut, asked of its lead and virtually only actor.
"It really required a lot of different states and different approaches, I would say. But it was great fun," Dafoe recalled.
Set entirely inside a single apartment and with no foils for Dafoe's character to rely on, "Inside" is completely dependent on his performance, which is so compelling you forget he is the only person on screen for the better part of 100 minutes.
It follows an art thief named Nemo (Dafoe) who gets trapped inside a collector's apartment during a botched heist. Nemo is pushed to his limits, braving extreme temperatures, flooding and limited access to food and water, all within the confines of a luxury Manhattan apartment.
Despite the physical and psychological toll that Nemo suffers throughout the film, Dafoe said he was able to distance himself from his character's tribulations.
"You're going to some maybe dramatic places or some difficult places, but you're also enjoying the interplay with the other people," he said. "You've got the camera, you've got the film language behind you, so you're playing with these things."
More than just a psychological thriller, "Inside" considers the ways in which art rescues humans in modern society from an isolated existence — a way out from being trapped inside of ourselves. Through his meditations on William Blake's "The Marriage of Heaven and Hell," Nemo discerns that liberation can only be attained through creation.
For Dafoe, the philosophical exploration of the human relationship to art was not as apparent in the script, but "really came out in the doing of it," the actor recalled, reflecting on the ways he found beauty in making art pieces for the film.
"That was so enjoyable. You lose yourself in those things. You don't necessarily know what they're for, but they feel so useful and so healthy and so necessary," he said.
"There are certain things that are purely physical, and you don't always get to do these scenes with no dialogue," he said. "Meditative sections that you're really by yourself and there's nothing to accomplish."
And while the specifics of the plot of "Inside," which wrapped filming in June 2021, may not ostensibly feel universal, almost everyone on this side of the coronavirus pandemic will relate to the film's scant human interactions, vague conception of time and claustrophobic cinematography.
"Inside" hits theaters March 17.